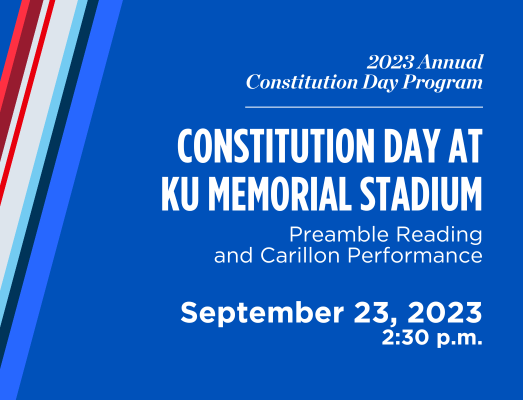 Constitution Day at KU Memorial Stadium
September 23, 2023 at 2:30 p.m.
This event will take place before the Kansas Jayhawks play against Brigham Young University at the David Booth Kansas Memorial Stadium. To watch the game, a valid ticket is required from KU Athletics.
During Family Weekend at the Kansas Memorial Stadium, KU fans are invited to recite the Preamble to the Constitution before the Jayhawks play against Brigham Young University. Chancellor Douglas Girod will lead the recitation while Elizabeth Berghout, carillonneur, rings the bells from the Campanile. Following the Preamble, the Marching Jayhawks will play the national anthem.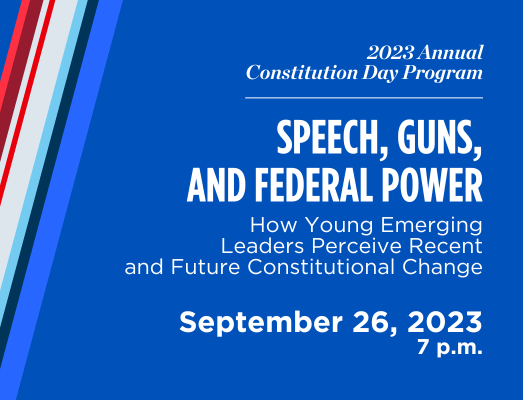 Speech, Guns, and Federal Power: How Young Emerging Leaders Perceive Recent and Future Constitutional Change
September 26, 2023 at 7 p.m.
In recent years, the U.S. Supreme Court has reshaped key aspects of American law, including First Amendment speech protections, firearms regulation under the Second Amendment, and the Executive Branch's powers to implement laws. The Court appears poised to continue reshaping these fields in the coming term through a set of potentially transformative cases. In observation of Constitution Day, Associate Director Dr. Barbara Ballard will lead a panel of emerging leaders in the legal profession – each of whom are former members of the Dole Institute's Student Advisory Board – to discuss these changes and how they see the profession evolving in the coming years.