Hybrid Event
Kennan and Nitze: Early Cold War Theorists
Event Category:
December 2, 2021 @ 3:00 pm
Hybrid Event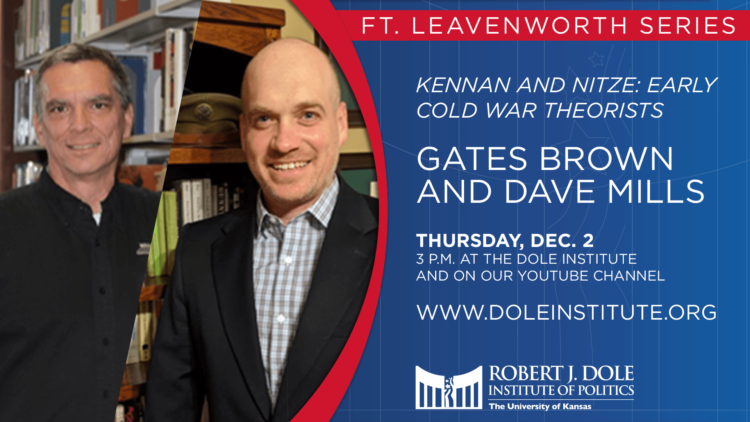 Ft. Leavenworth: Kennan and Nitze: Early Cold War Theorists
Gates Brown and Dave Mills
December 2, 2021 | 3 p.m.
Brown and Mills will discuss two of the most influential Cold War theoriest: George Kennan and Paul Nitze, who were exact opposites in strategy and outlook. Kennan was a realist who believed the U.S. should eliminate its arsenal of nuclear weapons. His guiding philosophy was that an individual or a nation that desired peace should act peacefully, although his opinions on dealing with the U.S.S.R. ironically led to the most aggressive foreign policy in American history. Nitze was a hawk who advocated a more assertive role in foreign affairs, believing that if a nation desired peace, it should prepare for war. More than any other American, Nitze was responsible for the arms race between the two superpowers throughout the Cold War.
The Ft. Leavenworth Series
The Ft. Leavenworth Series is an annual roster of lectures focusing on significant historical events, usually with an emphasis on military history. Each lecture is presented by faculty from the United States Army Command and General Staff College in Ft. Leavenworth, Kansas. Established by General William Tecumseh Sherman in 1881, the CGSC is the graduate college for U.S. Army and sister service officers. The esteemed faculty and guests of the CGSC provide unique and captivating insights into the history of military conflict from the ancient to the modern ages at the Dole Institute of Politics.
The Robert J. Dole Institute of Politics is dedicated to promoting political and civic participation as well as civil discourse in a bipartisan, philosophically balanced manner. It is located on KU's West Campus and houses the Dole Archive and Special Collections. Through its robust public programming, congressional archive and museum, the Dole Institute strives to celebrate public service and the legacies of U.S. Senators Bob Dole and Elizabeth Dole.
Related Events