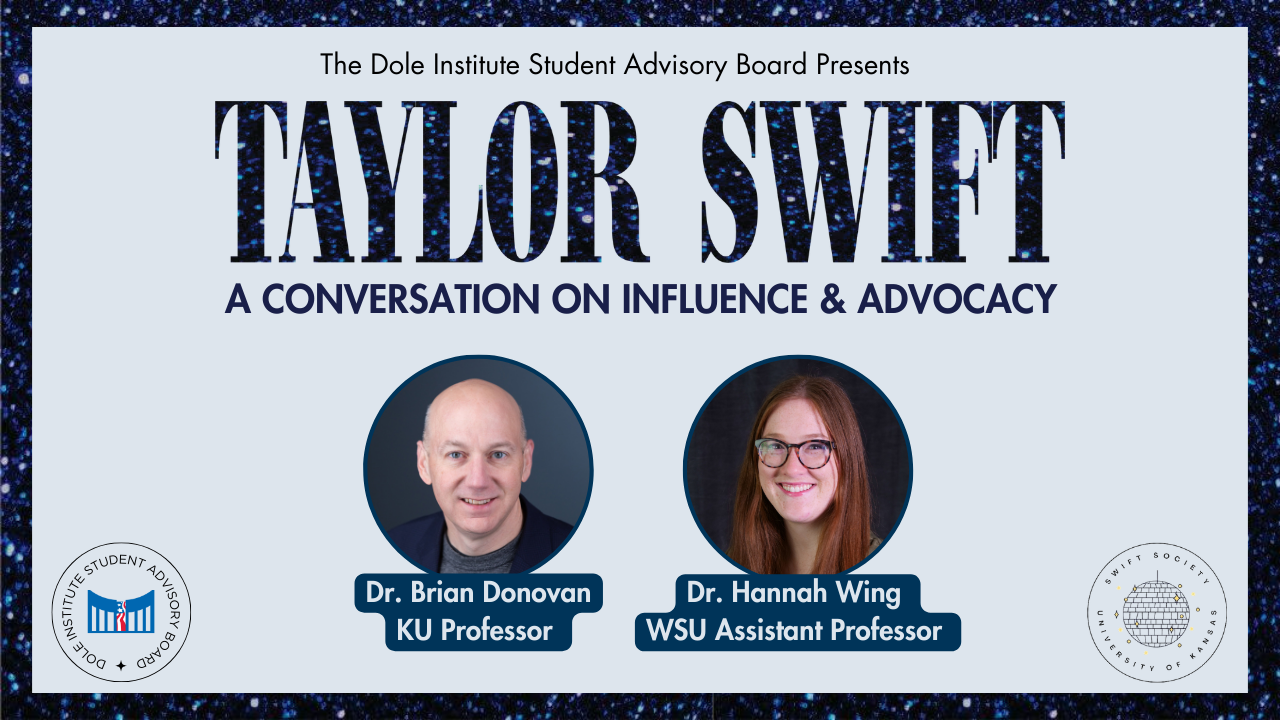 Global superstar Taylor Swift is on top of the world with a massive and Fearless fanbase behind her. Join us for an Enchanted evening of merging music, politics, and activism as KU Professor Dr. Brian Donovan and Wichita State University Assistant Professor Dr. Hannah Wing discuss Swift's journey into the world of politics and social activism as well as what politicians can learn from her uniquely powerful influence. Are you ready for it?
Wear your friendship bracelets and your Swiftie merch!
Important Information for Attending This Program
Due to an expected large turnout for this event, we are taking some additional steps.
Doors for this event will open at 6:15 p.m.
Members of the public are encouraged to arrive early to secure their seat
Should you not be admitted for this program, please be aware that it will be live streamed on our YouTube Channel starting at 7 p.m. CST. This program will also be available to stream afterward.
KU students may come early for a pizza party with Taylor Swift music and cookies starting at 6 p.m.
Dr. Brian Donovan is a professor in the KU Department of Sociology. Donovan's research focuses on gender and American culture. His latest book, American Gold Digger, examines the "gold digger" stereotype in American culture. Donovan is currently interviewing Swifties for a book about the Taylor Swift fandom and is teaching a Taylor Swift-focused course called "The Sociology of Taylor Swift" this semester.
Dr. Hannah Wing is an Assistant Professor in the Elliott School of Communications at Wichita State University. Her research is centered on examining the relationships between media consumers and media personae, including how fans are influenced by the behavior of celebrities. She is currently researching the experiences Taylor Swift fans had while trying to obtain tickets to The Eras Tour.
This program is presented in partnership with the KU Swift Society.