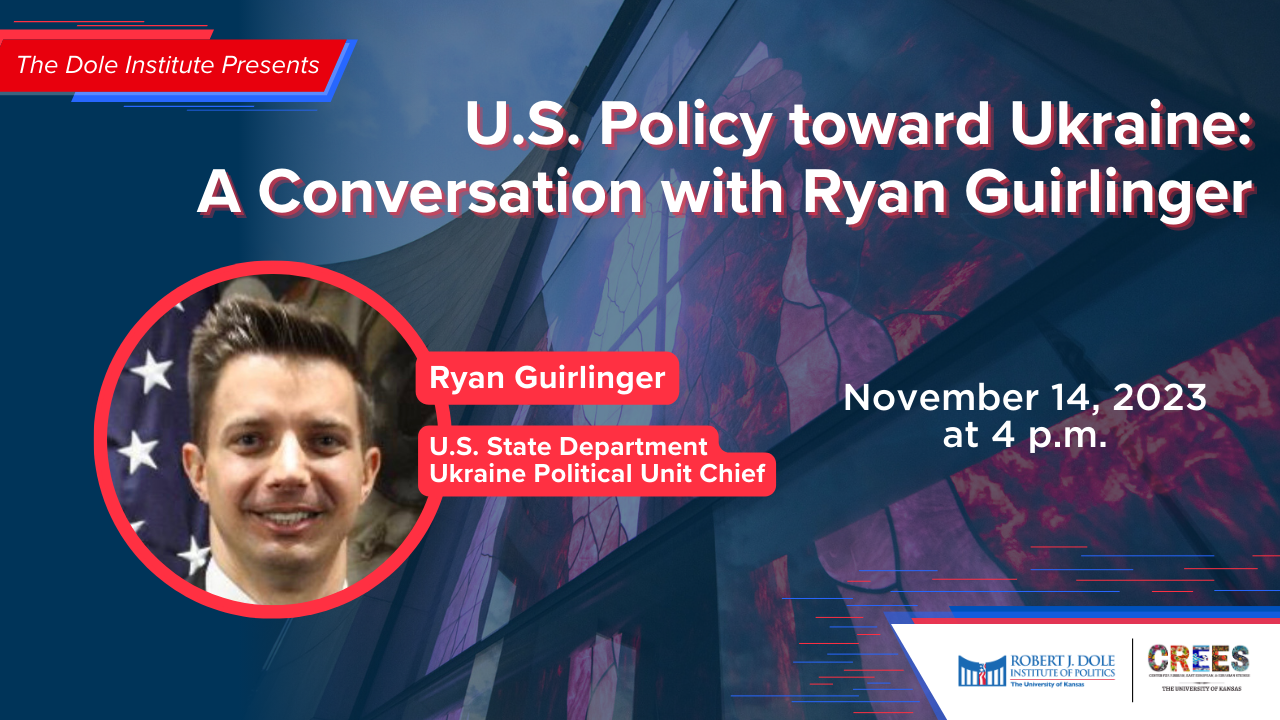 On Tuesday, November 14, the KU Center for Russian, Eastern European and Eurasian Affairs, in partnership with the Dole Institute, will bring U.S. Department of State official Ryan Guirlinger to the Dole Institute for a conversation on the United States' policy toward Ukraine as the war continues into a third year. Guirlinger, the State Department's Chief of the Ukraine Political Unit, will discuss the current state of the U.S. policy toward Ukraine, how these policies are designed and implemented, and answer questions from the audience.
Unlike other programs, this program will not be live-streamed on our YouTube Channel, so make plans to attend this event in-person.
Ryan Guirlinger has served as the Ukraine Political Unit Chief since August 2022. In his distinguished career with the State Department he has previously served as Saudi Arabia Senior Desk Officer in the Bureau of Near Eastern Affairs, deputy economic counselor at the U.S. Embassy in Morocco, economic officer at the U.S. Embassy in Algeria, consular officer at the U.S. Consulate General in Istanbul, Turkey, and consular and economic officer at the U.S. Embassy in Honduras. In 2019, he was the recipient of the inaugural Hayden Brown Award for Outstanding Leadership in Energy Security and Access. He joined the Foreign Service in September 2008, and holds two bachelor's degrees from the University of Maryland-College Park and a master's degree from Syracuse University.