November 13, 2023 - Features
by Raina Hackett | Travel Grant Researcher
---
Raina Hackett received a 2023 Dole Archives travel grant to assist with her project, "Congresswoman Shirley Chisholm and the Expansion of Food Assistance – An Intersectional Analysis of the Special Supplemental Nutrition Program for Women, Infants, and Children (WIC)."
As I write this, over 34 million Americans will struggle to access an affordable, nutritious meal today. That number also includes the 9 million children who do not know where their next meal will come from. There is no excuse for anyone in the United States of America to face hunger. These alarming statistics are one of the many reasons I chose to research at the Dole Institute of Politics.
During Black History Month in February 2022, I came across a tweet posted by No Kid Hungry, a non-profit dedicated to ending childhood hunger in the United States. The tweet claimed something I was shocked by – that the late Congresswoman Shirley Chisholm was "key in expanding food stamps (now SNAP) & creating the Special Supplemental Nutrition Program for Women, Infants, and Children (WIC)." I knew who Chisholm was and many of her significant policy proposals – but creating WIC? This was something I never heard of.
At the time, I was about a month into my gender and policy graduate coursework at The George Washington University, grappling with a research topic for my course paper. After seeing this tweet, I knew the paper would focus on Chisholm's role in creating WIC, with the initial research question becoming What role did Chisholm play in the legislative history of WIC? Little did I know that my research question would change, and this topic would take me to The University of Kansas over a year later.
While doing initial research for the course paper, I immediately noticed significant gaps in sources to substantiate the claim that Chisholm helped create WIC – especially primary sources. Because my undergraduate major was history (alongside sociology), I was trained to understand the power of the primary source; that, in most cases, they are more credible as evidence for an argument. I was uneasy knowing that I did not have enough sources to validate this claim in the most robust way possible, and reluctantly turned in the course paper with many unanswered questions. My quest to find more sources spilled beyond that semester and soon became my graduate thesis topic with my gender and policy course professor serving on my thesis committee. As I began to research more, I knew that what I needed would go beyond what was easily available to me.
A couple of secondary sources I used cited an interaction between Chisholm and Senator Bob Dole on Chisholm's first working day of Congress in 1969, and this interaction started their collaboration to expand food assistance and ultimately create WIC. I became curious about this citation and wondered why this encounter was not well-known in the legislative history of WIC. The official government resources that recount this history did not cite Chisholm or her interaction with Dole. My research question soon shifted to Why was Chisholm written out of the legislative history of the WIC program?
The Robert & Elizabeth Dole Archives & Special Collections, housed at the Dole Institute, was the only place I could think of to find the answer. I knew I would have to look for documents that needed to 1) confirm Chisholm and Dole met, and 2) were in the period from WIC's initial conception to becoming permanent law (approximately 1967 to 1974). When I applied for the research grant, I made it very clear that I knew what I was looking for. If I could not find what I needed precisely, it was necessary for me to gather primary sources from the archives regarding food assistance, as Dole was a well-known leader in the fight to expand food assistance in the United States.
During my four days researching in the Dole Archives, I found incredible documents that allowed me to strengthen my thesis research and paint a complete picture of the food assistance landscape in the period I was researching. Even though I did not find the exact document(s) I was looking for, the slew of archival materials allowed me to substantiate almost all the secondary sources I used in my research. Additionally, I had the chance to present my research with Dole Institute Friends, students, and staff – an opportunity I never had outside of my internal school setting. Sharing original research on a topic that I am incredibly passionate about was a privilege, as many of us early-stage professionals do not have these incredible platforms to discuss pressing issues.
As my time was winding down at the Institute, I was able to tour the entire archive. As a congressional staffer, I was mesmerized by seeing the differences and similarities between the resources we use now and those from Dole's time in Congress. I was inspired by everything and everyone surrounding me at the Dole Institute. The documents and materials I accessed in the archives reflect a time of less intense political polarization and healthy compromise. This seems almost foreign now. WIC is a product of this time, and Senator Dole's legislative records relayed this. Like many others in the world of public service, I strive to get back to a time when we can disagree but still find a solution – especially for the world's most vulnerable. For me, that is the hungry and malnourished.
Congresswoman Chisholm once said, "Service is the rent you pay for room on this earth," and I will continue to serve until no one is hungry in the United States of America. To make this goal attainable, I have recently turned to some inspiring advice from Senator Dole, who said that, "the difference between possible and impossible is hard work and commitment." It is possible for everyone in the United States of America to have access to affordable, nutritious food for all meals a day – and the Dole Archives can get us one step closer to it.
---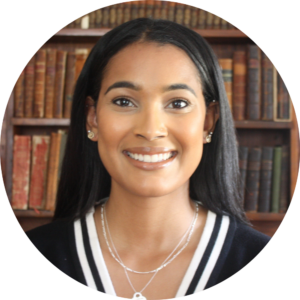 Raina Hackett received a 2023 Dole Archives travel grant to assist with her project, "Congresswoman Shirley Chisholm and the Expansion of Food Assistance – An Intersectional Analysis of the Special Supplemental Nutrition Program for Women, Infants, and Children (WIC)." Her project explores the legislative history of WIC looking for places where a key player has been minimized in the history of the program – the late Congresswoman Shirley Chisholm. She recently earned a master's degree in sociology from George Washington University and is a Legislative Assistant for U.S. Representative Bonnie Watson Coleman of New Jersey's 12th Congressional District covering agriculture and nutrition alongside other issue areas.
About Research Grants
Travel grants are one type of research grant offered by the Robert & Elizabeth Dole Archive & Special Collections. The grants program, established in 2010, intends to foster archival research in the Dole Archives among scholars of all professions and disciplines. Support is generously provided by the Friends of the Dole Institute. There is still travel grant funding available for 2023-24. Visit dolearchives.ku.edu/research/grants for more information.