November 6, 2023 - Features
by Julie Clover | Public Education Manager
---
Monday evening, October 30, 2023, gnomes, ninja turtles, and dragons gathered for the KU Center for Community Outreach's 2nd annual Trunk-or-Treat event at the Dole Institute of Politics. KU's CCO worked with multiple student groups across campus who hosted nearly 40 decorated trunks staffed by over 75 volunteers.
Over 300 guests of all ages navigated multiple rows of trunks throughout the evening, gathering candy from KU student organizations. Attendees also got to interact with firemen from Station 5 of Lawrence-Douglas County Fire Medical, as well as Lawrence Public Library staff at Dottie, the Library's Bookmobile.
Members of the Dole Institute's Student Advisory Board also hosted a trunk and volunteered inside the Dole Institute by welcoming guests in the museum and facilitating activities, which included scavenger hunts, trivia questions, coloring, and an American flag puzzle. Visitors also had an opportunity to make their own campaign button with a button maker. Outside, families could decorate mini pumpkins, play giant jenga or pumpkin tic-tac-toe with volunteers from CCO.
Even Big Jay made an appearance and thought this event was spooky fun!
Special thanks to the planning team of KU's Center for Community Outreach, Lawrence Public Library, Station 5 of Lawrence-Douglas County Fire Medical, and Big Jay!
---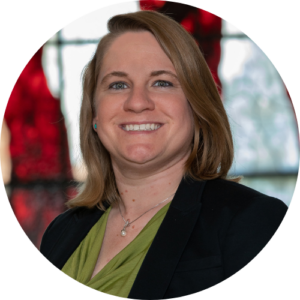 Julie Clover serves as the Dole Institute's Public Education Manager. In her role, Julie leads K-12 and family education programs, including on-site, outreach, and online initiatives. Julie graduated from the University of Kansas with her bachelor's and master's degrees in biological research. Most recently, she was an education specialist at the Natural History Museum of Utah and traveled all over the state teaching outreach education programs to thousands of students every year.
About the Dole Institute
The Dole Institute was dedicated on July 22, 2003, at the University of Kansas on Senator Bob Dole's 80th birthday. Home to the personal archives of both Senator Bob and Senator Elizabeth Dole, with a museum facility on par with the U.S. Presidential libraries, the Dole Institute has been a vibrant political forum promoting civil discourse, civic engagement, and idea exchange across the political spectrum for 20 years.