Hybrid Event
Pre-World War I French Military Doctrine and its Consequences
Event Category:
October 7, 2021 @ 3:00 pm
Hybrid Event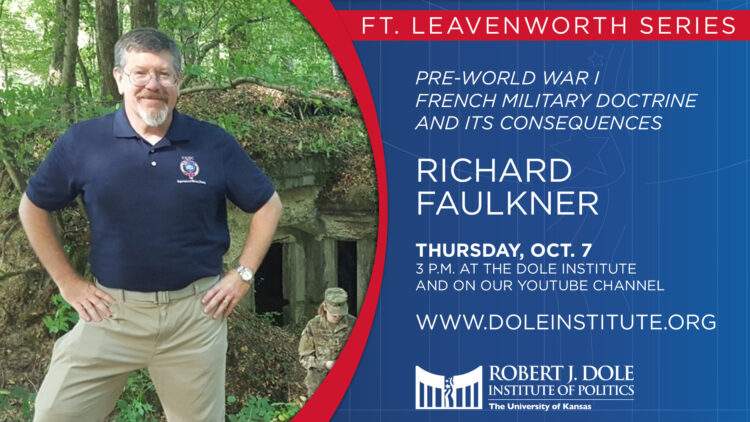 Ft. Leavenworth: Pre-World War I French Military Doctrine and its Consequences
Richard Faulkner
October 7, 2021 | 3 p.m.
In the years prior to World War I, the French military wrestled with how to defend itself against a larger, more industrialized foe. Like the Great War's other major combatants, the French pre-war doctrine proved to be ill-suited to meet the realities of the 1914 battlefield. This lecture will examine the factors that influenced the French Army's pre-war doctrine, how the army envisioned fighting "the next great war," and how it adapted its tactical strategy from 1915 to 1918, after its peacetime doctrine failed to secure France's hope for victory in 1914.
The Ft. Leavenworth Series
The Ft. Leavenworth Series is an annual roster of lectures focusing on significant historical events, usually with an emphasis on military history. Each lecture is presented by faculty from the United States Army Command and General Staff College in Ft. Leavenworth, Kansas. Established by General William Tecumseh Sherman in 1881, the CGSC is the graduate college for U.S. Army and sister service officers. The esteemed faculty and guests of the CGSC provide unique and captivating insights into the history of military conflict from the ancient to the modern ages at the Dole Institute of Politics.
The Robert J. Dole Institute of Politics is dedicated to promoting political and civic participation as well as civil discourse in a bipartisan, philosophically balanced manner. It is located on KU's West Campus and houses the Dole Archive and Special Collections. Through its robust public programming, congressional archive and museum, the Dole Institute strives to celebrate public service and the legacies of U.S. Senators Bob Dole and Elizabeth Dole.
Related Events