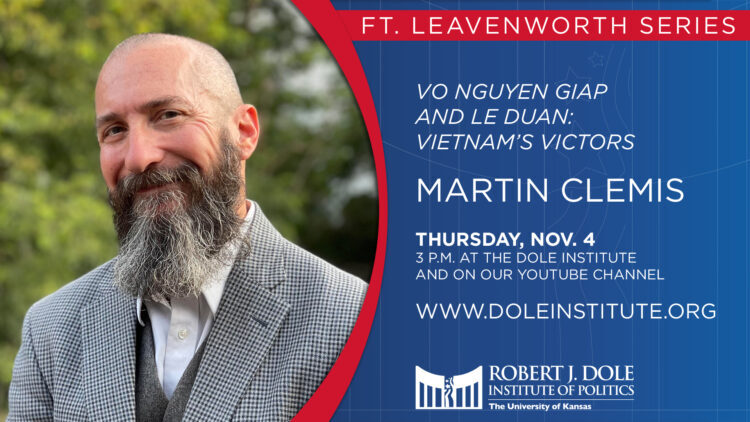 Ft. Leavenworth: Vo Nguyen Giap and Le Duan: Vietnam's Victors
Martin Clemis
November 4, 2021 | 3 p.m.
Between 1945 and 1975, the Democratic Republic of Vietnam fought and won two major conflicts against tremendous odds: one against France and the other against the U.S. and its South Vietnamese ally. The architects of these incredible victories were General Vo Nguyen Giap, the commander of the North Vietnamese Army, and Le Duan, the General Secretary of the Vietnam Worker's Party. Although they both utilized a hybrid politico-military approach that synthesized conventional war, guerrilla warfare, and mass politics, they each pursued a unique variation of communist revolutionary warfare. In this lecture, Clemis will discuss how these men and their theories of war carried the communists to victory in Vietnam, and in doing so, brought the most far reaching and consequential conflict of the Cold War to a conclusion.
The Ft. Leavenworth Series
The Ft. Leavenworth Series is an annual roster of lectures focusing on significant historical events, usually with an emphasis on military history. Each lecture is presented by faculty from the United States Army Command and General Staff College in Ft. Leavenworth, Kansas. Established by General William Tecumseh Sherman in 1881, the CGSC is the graduate college for U.S. Army and sister service officers. The esteemed faculty and guests of the CGSC provide unique and captivating insights into the history of military conflict from the ancient to the modern ages at the Dole Institute of Politics.
The Robert J. Dole Institute of Politics is dedicated to promoting political and civic participation as well as civil discourse in a bipartisan, philosophically balanced manner. It is located on KU's West Campus and houses the Dole Archive and Special Collections. Through its robust public programming, congressional archive and museum, the Dole Institute strives to celebrate public service and the legacies of U.S. Senators Bob Dole and Elizabeth Dole.