Hybrid Event
"The Future of Big Tech"
April 26 @ 6:00 pm

-

8:00 pm

Hybrid Event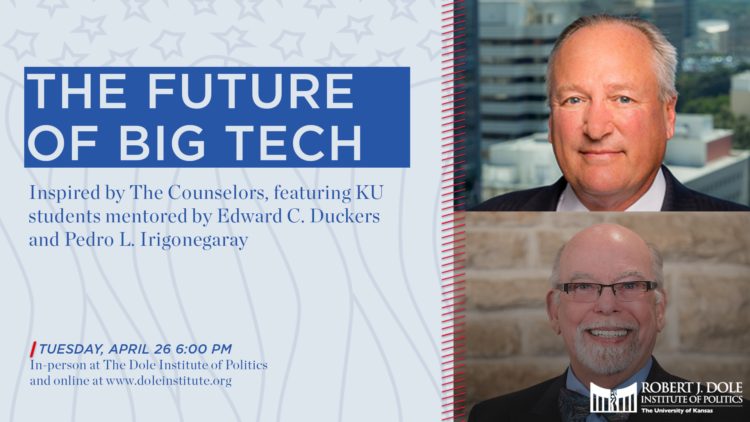 "The Future of Big Tech"
April 26 | 6 p.m.
Inspired by our beloved courtroom-style program, The Counselors, Ed Duckers and Pedro Irigonegaray return – this time as mentors to KU undergraduate students! Students will cross examine expert witnesses to debate the future of Big Tech by addressing the resolution: Antitrust laws should be expanded to regulate anticompetitive practices by big tech corporations.
This pilot program is made possible by funds raised during our 2022 One Day One KU initiative to promote new student opportunities at the Dole Institute.
Affirming Side: 
Dr. Tarun Sabarwal, Professor of Economics at the University of Kansas
Ruth-Anne French-Hodson, Partner, Sharp Law, LLP
KU Students Catherine Magaña and Michael Scott
Negating Side: 
William "Tripp" Monts III, Partner, Hogan Lovells
Jeff Cross, Partner, Freeborn & Peters
KU Students Raina Peter and Will Mechnig