April 4, 2022 - News
LAWRENCE — The Robert J. Dole Institute of Politics at the University of Kansas has announced new upcoming programming in addition to its early spring event lineup.
The 2022 Dole Lecture will take place at 7 p.m. April 14. Presented each spring, the lecture commemorates the date when Bob Dole was critically wounded while serving in Italy during World War II. The Dole Lecture honors Dole's courageous recovery and commitment to serve the nation. This year's special guest speakers are Walt Riker and Clarkson Hine. Riker and Hine both served as press secretary for Dole during his historic time in the U.S. Senate and on the presidential campaign trail.
"Walt Riker and Clarkson Hine led communications for Senator Bob Dole at a pivotal time both in his career and in our nation's history. It was also a time when partisan messaging did not preclude bipartisan cooperation," said Audrey Coleman, Dole Institute director. "Their insights will provide an interesting perspective on the development of our political and media landscape."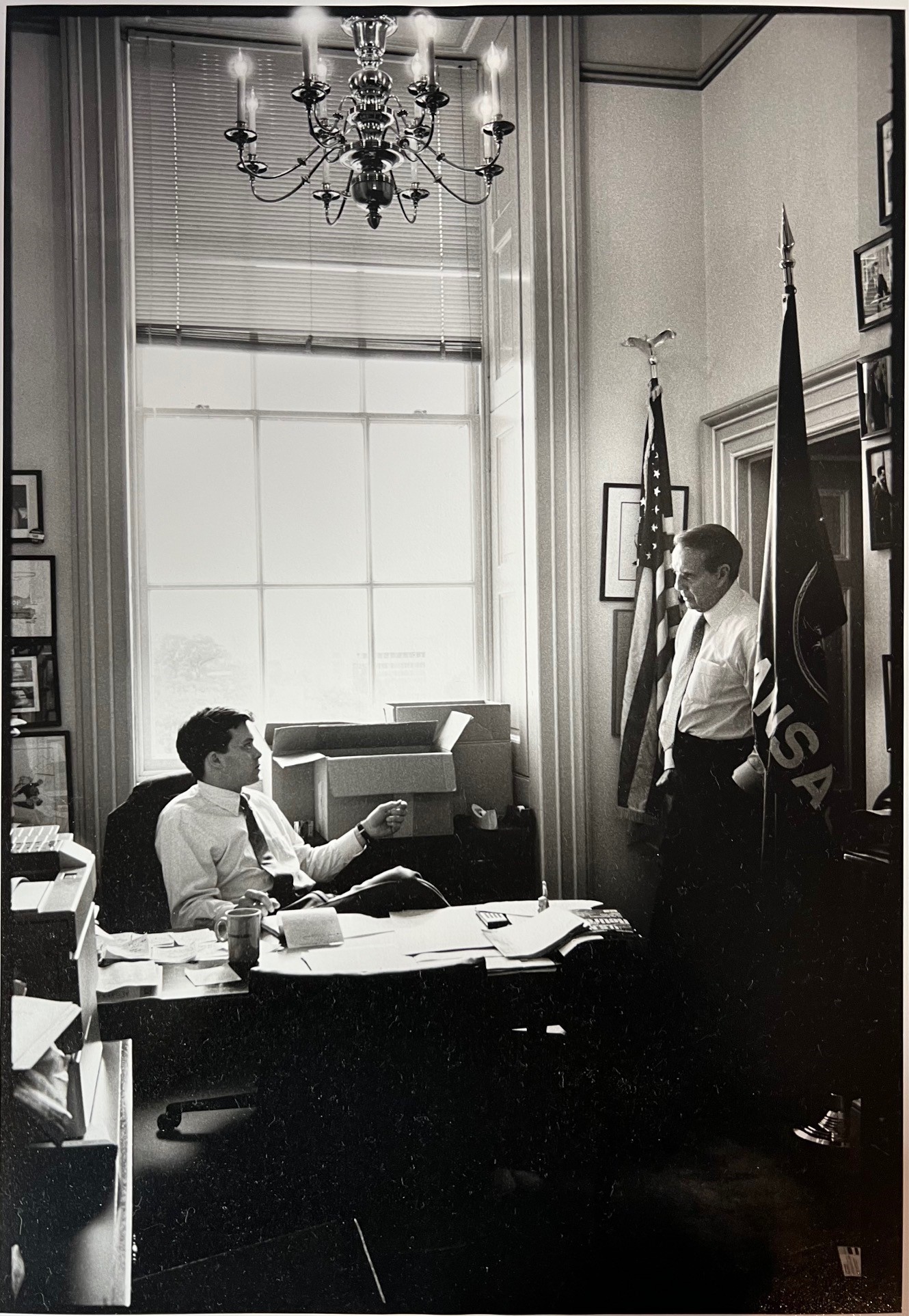 Hine is senior vice president for corporate communications & public affairs at Beam Suntory. He leads the company's global communications, brand PR and public affairs functions. Before entering business, Hine served for seven years in senior communications positions on the Senate leadership, presidential campaign and post-election staffs of Dole, including three years as press secretary during Dole's high-profile tenure as both minority and majority leader of the Senate. Hine is a cum laude graduate of Cornell University.
Riker was the vice president of corporate media relations at McDonald's Corporation for more than 17 years and is now a freelance communications consultant. He served as press secretary for Dole from 1981 to 1993 and was a Kansas Statehouse correspondent and reporter for WIBW in Topeka. Riker graduated from KU's William Allen White School of Journalism in 1978.
The Dole Institute Student Advisory Board Program, "Fall Forecast: Predicting the 2022 Midterm Elections," will take place at 7 p.m. March 31. The program will feature Colleen McCain Nelson, executive editor of The Sacramento Bee and the California regional editor for McClatchy, and Gerald Seib, executive Washington editor of The Wall Street Journal. They will lead a discussion on how the Democratic and Republican parties have evolved, challenges facing candidates in uniting their parties and what the two parties will focus on during the 2022 election cycle.
On April 12 at 7 p.m., John Della Volpe will return to the Dole Institute to discuss his new book, "Fight: How Gen Z Is Channeling Their Fear and Passion to Save America." Volpe, Harvard Institute of Politics polling director, led a town hall meeting for students at the Dole Institute in 2015. "Fight" covers the political awakening of the 70 million young people in America born in a 20-year period beginning in the mid-1990s. The program will include a book sale and signing.
The spring semester's seven-part Discussion Group Series "Giants of the Senate," led by Dole Fellow Bob Blaemire, concludes with a visit from Nancy Kassebaum, former U.S. senator from Kansas, at 3 p.m. April 20.
On April 26 at 6 p.m., the institute will present "The Future of Big Tech," a student-led version of The Counselors. In this courtroom-style program, KU student advocates will argue either side of an important national issue. Edward Duckers, partner at Stoel Rives LLP and head of the firm's litigation practice, and Pedro Irigonegaray, attorney and partner at Irigonegaray, Turney, & Revenaugh, will serve as mentors to the KU undergraduates who will serve as cross-examiners of expert witnesses.
Now on display in the Elizabeth Dole Gallery & Reading Room is an encore of the 2020 exhibition, "What Would a Woman Offer Her Country? Elizabeth Dole's Ground-breaking, Trail-blazing Life of Service." The exhibition will be on display through May 29.
The institute will resume its in-person annual Easter Egg Roll with Dole from 10 a.m. to 1 p.m. April 16. This family-friendly event will feature an egg rolling race, inspired by the White House Easter Egg Roll held annually on the White House South Lawn, story time with Lawrence Public Library, crafts and more.
To learn more about events and exhibits at the Dole Institute, please visit doleinstitute.org.
Walt Riker and Clarkson Hine
April 14 | 7 p.m.
Student Advisory Board Program – Fall Forecast: Predicting the 2022 Midterm Elections
Colleen McCain Nelson and Gerald Seib
March 31 | 7 p.m.
"Fight: How Gen Z is Channeling Their Fear and Passion to Save America"
John Della Volpe
April 12 | 7 p.m.
April 16 | 10 a.m.-1 p.m.
Discussion Group Series: "Giants of the Senate"
Nancy Kassebaum, former U.S. senator from Kansas
April 20 | 3 p.m.
Edward Duckers & Pedro Irigonegaray
April 26 | 6 p.m.
All programs will be held in person and can be viewed live on the institute's YouTube channel.
The Dole Institute of Politics is dedicated to promoting political and civic participation as well as civil discourse in a bipartisan, philosophically balanced manner. It is located in KU's West District and houses the Dole Archive and Special Collections. Through its robust public programming, congressional archive and museum, the Dole Institute strives to celebrate public service and the legacies of former U.S. senators Bob Dole, who died in 2021, and Elizabeth Dole.
Top photo: Walt Riker and U.S. Sen. Bob Dole with journalist David Brinkley on the set of ABC's "The Week." Walt Riker Collection, Dole Archives.
Bottom photo: Clarkson Hine and U.S. Sen. Bob Dole at work in Washington, D.C. Courtesy Clarkson Hine.