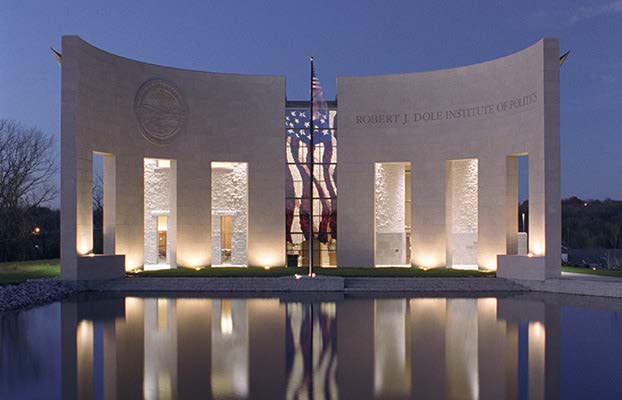 The Dole Institute's Board of Advisors was created in 2016 and serves as the chief volunteer advisory group of the Institute, providing necessary support to promote and achieve the mission of the Institute.
In addition to embracing and promoting the Institute's mission, Board members participate in the selection of speakers and the recommendation of program ideas. They are accessible to members of the Dole Institute's Student Advisory Board and assist with the Institute's developmental goals.
Board members serve three-year appointments upon their nomination.
Current Board of Advisors
Dr. Rose Barfield (ret.) – former Brigadier General, U.S. Army
Karen Bentley Steward – Vice President, In Pursuit Of
Nancy Dwight – Republican Strategist; former Executive Director, National Republican Congressional Committee
Peter Fenn – Democratic Strategist; President, Fenn Communications Group
Joseph Gaylord – Republican Strategist; former senior advisor to House Speaker Newt Gingrich
Hon. Dan Glickman – former U.S. Secretary of Agriculture, U.S. Representative and Director, Institute of Politics, Kennedy School at Harvard University
Fred Logan – former Chair, Kansas Board of Regents and Kansas GOP
Hon. Marlon Marshall – Democratic Strategist; former Special Assistant to President Barack Obama and Deputy Field Director, Obama 2012
Bette M. Morris, Ph.D.  – President, Mark and Bette Morris Family Foundation
Maynard F. Oliverius – former President and CEO, Stormont-Vail HealthCare
Mike Pettit – former Chief of Staff and Administrative Assistant to Sen. Bob Dole
Hon. John D. Pinegar – Partner, Pinegar, Smith and Associates, Inc.
Edward S. Riss – Investor
Hon. Kathleen Sebelius – former U.S. Secretary of Health and Human Services and Governor of Kansas
Dolph Simons – Chairman, The World Company
Hon. Jim Slattery – Strategic Counsel, Wiley Rein LLP; former U.S. Representative
Hon. William B. Lacy – Director, Dole Institute of Politics
Chancellor Douglas A. Girod – University of Kansas (Ex Officio member)
Hon. Barbara W. Ballard, Ph.D. – Associate Director, Dole Institute of Politics (Ex Officio member)