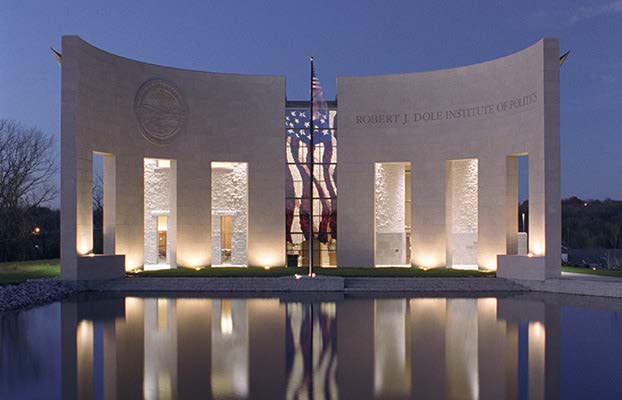 The Robert J. Dole Service to Country Award was established by John D. Pinegar, Douglas E. Smith and Pinegar, Smith & Associates, Inc. to provide a $1000 award each year to a student of the University of Kansas who is an active member of the Dole Institute Student Advisory Board (SAB). The recipient shall be committed to public service and have demonstrated leadership. Preference shall be given, but not limited to, SAB members who are serving in active duty, the reserves, or national guard, or are honorably discharged veterans of the uniformed services. The recipient of the award will be honored annually at the Dole Lecture which occurs in the spring semester.
To be eligible, applicants must be a currently enrolled student in good standing at the University of Kansas as well as a current member of the Dole Institute Student Advisory Board.
Students interested in applying for the award must submit a completed application and attach all supporting materials by 5:00 p.m. on Sunday, April 2, 2023. Applications must be submitted to doleinstitute@ku.edu with the subject line "Service to Country Application."
Applicants will be notified by Monday, April 10, 2023.
Robert J Dole Application 2023
General Information Page for Service to Country Award 2023
Award Recipients
2023
Samantha Casmus
2022
Raina Peter
2021
Sarah Grindstaff
2020
Samiyah Para-Cremer
2019
Emily Depew
2018
Claire Meczkowski